In the days since the 2019 kickoff, teams, alumni, mentors, sponsors, all pooled resources to supply "Ri3D" teams with the goods they needed to hopefully build robots to test and prove concepts others couldn't. Let's go through some of them that your team probably should know about as we round out the first week of the build season.
---
Among the prettiest Ri3D bots in existence, this group of University of Minnesota students set out to build a robot capable of scoring both game objects and the endgame objective perfectly. As outlined in their Chief Delphi thread, they not only filmed videos and took photos of prototypes of mechanisms, but also released a solid handful of technical documents for your edification.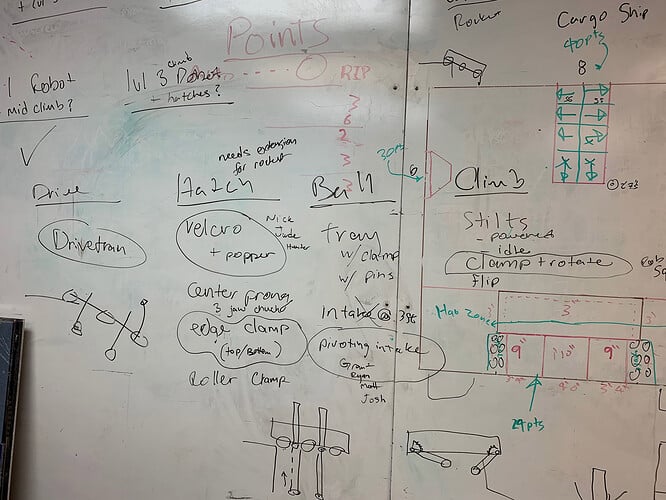 Perhaps most interestingly is their Level 3 climb of the Hab for a 12pt advantage and getting their alliance 4/5ths of the way to an additional Rank Point in the Qualification Rounds. Many teams have taken interest in this particular climb method, as it was thought to violate the criteria for being a Level 3 climb, though with the recent clarification in the Q&A system, it seems to be legal. I personally suspect we'll see many improvements and iterations to this preliminary design which absolutely killed it.
---
This Robot in 3 Days team comprised of mentors and alumni from two of the most dominant teams in FIRST Mid-Atlantic, teams 225 and 2590, set out to build a robot in 3 days that was the best it could be, and in many individuals eyes, they absolutely succeeded.
Making use of Team 225's 2018 robot, they started off with a working elevator and fourbar, and mounted them on an 8-wheel drivetrain. They focused much of their prototyping on a combination hatch & cargo intake, which they placed on a wrist at the end of their fourbar. This robot would be exceedingly ambitious for most teams in a season, much less in 3 days. Unfortunately their work was criticized for not being truly done in "3 Days" being that major parts of it were started more than a year ago. That didn't in any way inhibit it from being a fantastic design for teams to learn from though.
Their "angular displacement test" showed off the versatility of pneumatics as a way to detach the hatch covers linearly, though any teams who want to draw inspiration from this design may want to ensure their design doesn't violate the update to G06. They also posted their robot code on GitHub, that way others can understand the code that powers this type of robot. All I really know for sure is that I really don't want to be on the opposing alliance to this robot.
---
This team of Texans who meme a lot opted to extend their build season just a few days more, but for good reason. Using a combination hatch & cargo intake on an elevator, they spent time getting the CAD right and working as well as they could, all to make it in time for the Week -6 Competition being held this Sunday over on First Updates Now. More information on that can be found on their Chief Delphi thread, but for now, it's back to Ri3D Team Week 6.
Their design uses a different approach to the combination mechanism compared to Team 225, but it offers the ability to be mounted directly to an elevator, as opposed to needing a linkage as well. As of writing this article, their robot reveal isn't done yet, and neither is their robot, but you'll be able to see it at the Week -6 event, and their build videos are all on their YouTube channel. At the very least it can serve as a cautionary tale of what not to do, as they're exceedingly transparent about their mistakes.
---
This group of Canadians may have style when making a reveal video, but an effective robot that can score hatches, cargo, and get to Level 2 on the Hab is what they produced at the end of their 3 days. Making use of a roller intake for cargo and a pneumatic piston mechanism not unlike First Capitol's initial prototype to both get to Level 2 and score hatches from the floor and from the feeder station, this robot is in my mind a true "competitive concept" robot (Note the absence of the word "minimal").
Ultimately, this robot shares quite a bit with traditional FRC design and that built by other Ri3D teams, but there's nothing wrong with that. After all, steal from the best and invent the rest. They also did post their CAD for their robot, so that others can build exactly what they did, if they so desire. A good learning lesson on sharing what you made.
---
Team 3847 is no stranger to publishing resources, as we covered earlier in the week about their build blog. But this time they build a "minimum competitive concept" robot, aiming to score hatches and cargo on the cargo ship and on the low levels of the rocket. They forwent a floor pickup for hatches, unlike other Ri3D teams, and chose to have a relatively simple roller intake for cargo.
They published both CAD files and a strategic breakdown to understand the choices into what they saw as minimally competitive. Of course, the competition varies from place to place, so the "minimal competitiveness" may be vary in either direction. It's still both interesting and useful to understand their choices as we all go into the competition season, both with and against 3847 in the first year of Texas Districts.
---
Everybot
Team 118 is no stranger to being competitive, but they set a personal bar for themselves, to build a minimally competitive robot for everyone. One that can successfully contribute to almost any match they play in, and this robot sure does.
With a simple hatch mechanism that can get from the feeder station, a cargo mechanism that can score in the cargo ship, and start from level 2 of the platform, this robot if driven correctly, is a real contender for playoffs at nearly any event. Their biggest "flaw" is that they ignore the use of pneumatics based on their video, but this isn't necessarily a bad thing. Pneumatics can be rather complicated for a team whose never used them effectively.

All of their technical resources for this robot can be found on their Chief Delphi thread.
---
Robot in 3 Days Subforum
The above listed robots are far from a complete list of Ri3D and MCC bots and prototypes that were put out there in the past week, and some of the ones that we didn't go into full depth on are Zou Keepers, Ri3D 1.0, Big Orange Robotics, and plenty of others. The "full" list is on Chief Delphi in the Robot in 3 Days Subforum, and some are yet to be released. Stay tuned to Chief Delphi and social media as these are released, to hopefully glean some more insight in the future.